Discover a Venue to Remember
Looking for a stunning location to host your next reception, family reunion or party? Let Shaker Village warmly welcome your guests with signature grace and charm, along with awe-inspiring venues, fresh seed-to-table cuisine and historic accommodations. Our team of professional event specialists will assist you in planning the perfect gathering.
Make your occasion even more memorable by treating your guests to experiences tailored just for you. From a cozy evening marshmallow roast, to bourbon tastings and hay rides, let Shaker Village create a weekend made just for you.
Looking for a way to customize your group experience at Shaker Village? Let us build a tailored itinerary that includes Kentucky-inspired adventures to enhance your time on our 3,000 acres of discovery.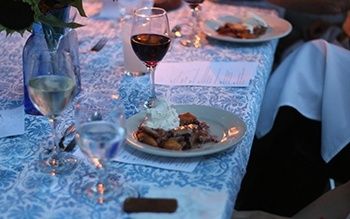 A perfectly-crafted dining experience is at the heart of the perfect gathering. Whether it's an elegant Derby party, corporate reception or classic Kentucky wedding, The Trustees' Table's experienced culinary team will prepare a menu that fits your venue and your vision.
From a rustic, restored tobacco barn to a remote dwelling with double parlor, covered porch and enclosed courtyard to the Shakers' 1820 Meeting House, Shaker Village's venues are unmatched. With 3,000 acres from which to choose, let Shaker Village be the backdrop for your next social affair.