Discover Your Pioneering Spirit
Shaker Village is home to a remarkable story. The Pleasant Hill Shakers are recognized for their iconic architecture, skilled craftsmanship and profound spirituality, but the story doesn't end there. During a 105-year span, the Pleasant Hill Shakers constructed more than 260 structures on the property. Today, there are 34 surviving buildings, most located along the mile-long gravel turnpike.
Discover the Shaker Village story at your own pace throughout The Historic Centre. Explore their impressive spaces, priceless artifacts, and curious lessons through a seasonal calendar of daily and special adventures. Then, head over to The Farm to meet the animals and out into The Preserve to explore 3,000 acres of discovery!
Admission grants you access to a full day of discovery filled with self-guided exploration and knowledgeable interpreters around each corner.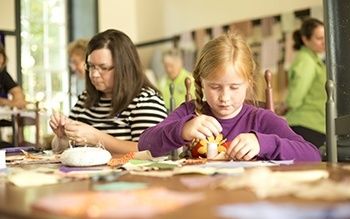 Discover curated weekend programs designed to inspire new perspectives! Become a Shaker maker, go behind-the-scenes with the collection, explore Shaker architecture and more. Visit the event calendar and register to start your discovery.
Fridays and Saturdays bring evening adventures, extended hours and reduced pricing! From busting history's myths, to hearing surprising stories and exploring rarely-seen spaces, stay late for fun night programs. Visit the event calendar for details.
Take a hayride around The Historic Centre every weekend, from September through October. Tickets are available for purchase at the Welcome Center!
Explore a dozen separate exhibit spaces across the property to learn about Shaker history, theology, architecture, agriculture and more. Visit the event calendar for upcoming receptions, artist tours and information on "seasonal" exhibits.
Admission grants you full access to self-guided and staff-led tours, special demonstrations, hands-on activities, and more throughout The Historic Centre, The Farm and The Preserve!
World Class Historic Resources
The Pleasant Hill Shakers
Discover Connections to the Past
Shaker Village is home to an impressive collection of Shaker architecture, furniture, artifacts and archives. It is a place of preservation and conservation, where those interested in history can learn about the past and be inspired for the future. With 34 Shaker structures, built from 1809 to 1875, the site is home to Kentucky's largest National Historic Landmark and the country's largest private collection of original 19th century buildings.