Indoor & Outdoor Museum Experiences | Open Daily
Shaker Village of Pleasant Hill is home to 34 original Shaker structures. Among these buildings you will find more than 30,000 sq. ft. of indoor museum exhibitions, as well as a variety of educational opportunities along outdoor pathways and trails.
Your Daily Admission provides access to all of the Village's museum experiences.
See Shaker Village in a whole new way, by downloading the FREE Shaker Village App. This interactive experience will make your visit to Shaker Village come to life!
Searching for Sister Mary
1824-34 Centre Family Dwelling
March 2023 - February 2024
Sister Mary Settles passed away 100 years ago as the last Shaker at Pleasant Hill. In the century since her passing, most people have come to identify Sister Mary only as this society's last member, but who was she really?
Join us for this special exhibit, Searching for Sister Mary, and explore the life of Mary Settles as a Shaker, a mother, a teacher, a leader, a celebrity and a modern woman.
Continue your search for Sister Mary throughout the Village, with a scavenger hunt that begins in the exhibition and takes you to other places of significance in Mary's life.
"Searching for Sister Mary" is located on the 2nd floor of the Centre Family Dwelling, with access available by stairs
1824-34 Centre Family Dwelling
Explore the massive 1824 Centre Family Dwelling, with its towering ceilings, unique architecture and 14 dorm-style bedrooms.
Once home to nearly 80 Shaker brothers and sisters, this building provides the perfect setting to learn about "home life" for this communal sect. Hundreds of Shaker artifacts help tell the story of daily life, worship, dining, food storage and health care.
Visitors to A Shaker Home will be asked to consider the concepts of "family" and "home," and how these concepts can shape our everyday lives and choices.
1817 East Family Dwelling Cellar
Pleasant Hill operated as a Shaker community for more than 100 years. During that century, the Village changed dramatically.
Early settlement developed into rapid growth, which led to new possibilities and challenges. Economic success in the middle of the 19th century gave way to struggles during and after the Civil War. Population decline presented difficult questions for the remaining Believers.
A Village Through Time explores the considerable changes Pleasant Hill faced throughout its history. This exhibit also introduces visitors to the post-Shaker period at "Shakertown," and how a small band of preservationists sought to save this unique chapter in Kentucky's history.
The Historic American Buildings Survey (HABS) was created in 1933 to document America's architectural heritage. Initiated by President Franklin D. Roosevelt's New Deal, HABS provided much needed work for historians, architects and photographers during the Great Depression.
Documenting Shakertown is a photographic tour of the period between the last Shakers at Pleasant Hill, and the founding of the nonprofit that would restore and preserve the site for the public.
Learn the stories of the incredible collection of historic buildings at Pleasant Hill, what surprising functions many of them have served, and what it has taken to save them for future generations.
Local Economies,

Global Impacts
1845 East Family Brethren's Shop &
1855 East Family Sisters' Shop
The Shakers were renowned throughout 19th-century America for their dynamic and diverse economic production.
Visitors to Local Economies, Global Impacts will discover how the Pleasant Hill Shakers' communal structure supported the local production of brooms, textiles, seeds and more - and how these products connected this small community to a much larger world.
This exhibit has been made possible in part by a grant from the Institute for Museum and Library Services. 
When the 1809 Farm Deacon's Shop was constructed at Pleasant Hill, it was the first permanent, stone dwelling for the Shaker community. At the time of its construction there were less than 200 members in the Society.
Within the next 15 years the Shaker population would grow to nearly 500 members, and the plan for their community had evolved dramatically.
Finding Your Centre explores the early history of community planning at this site, and how the combination of Shaker theology, local resources and the needs of the community combined into a vision that became Pleasant Hill.
Preserving the bounty of the rich fields and gardens of Pleasant Hill was a vital and ongoing activity for the Shakers. Fruits, vegetables, meats, dairy and grains, skillfully preserved, helped to sustain the community.
Preserved foods also became an important profit-generating industry at Pleasant Hill.
Visitors to Putting Food By will explore the processes used by the Shakers to preserve foods, and learn how the Shakers leveraged their "brand" when selling their preserves at market.
1824-34 Centre Family Dwelling
Every artifact has a story to tell, and by uncovering these stories, we can piece together the daily lives of individual Shakers at Pleasant Hill.
Shaker Village actively maintains over 7,000 objects, documents and photographs in the permanent collection. Pieces of Pleasant Hill allows visitors to explore a special selection of artifacts from the Shaker Village collection, each with its own unique story to tell.
While discovering the story behind each artifact, guests will also learn more about how a collection of artifacts is conserved, protected and curated.
This exhibit has been made possible in part by a grant from the Kentucky
Historical Society. 
1833 Water House &
1860 Brethren's Bath House
The Shakers built at least 55 structures dedicated to water access and use at Pleasant Hill, including wells, cisterns, wash houses, bath houses, spring houses and privies. Their public waterworks, completed in 1833, was one of the earliest to be constructed west of the Alleghenies.
With their impressive water tower, located inside the 1833 Water House, as the centerpiece of the exhibit, guests visiting this multi-building experience will learn how Shaker ingenuity provided access to clean water and facilities for their Society, and how access to clean water is a need being met with varying degrees of success around the world today.
Outdoor Learning Stations
Located Throughout the Village
Shaker Village of Pleasant Hill offers both indoor and outdoor educational opportunities throughout the year.
While traversing the pathways and trails at Shaker Village, guests will discover dozens of educational waystations, kiosks and interpretive signs to add context to the diverse natural and cultural landscape.
Outdoor learning stations within the Village are ADA accessible, while those located in the Preserve are typically accessed only via hiking trails.
Shaker Village's outdoor learning stations have been made possible in part by a contribution from Community
Trust Bank. 
Eat, Stay & Shop at Shaker Village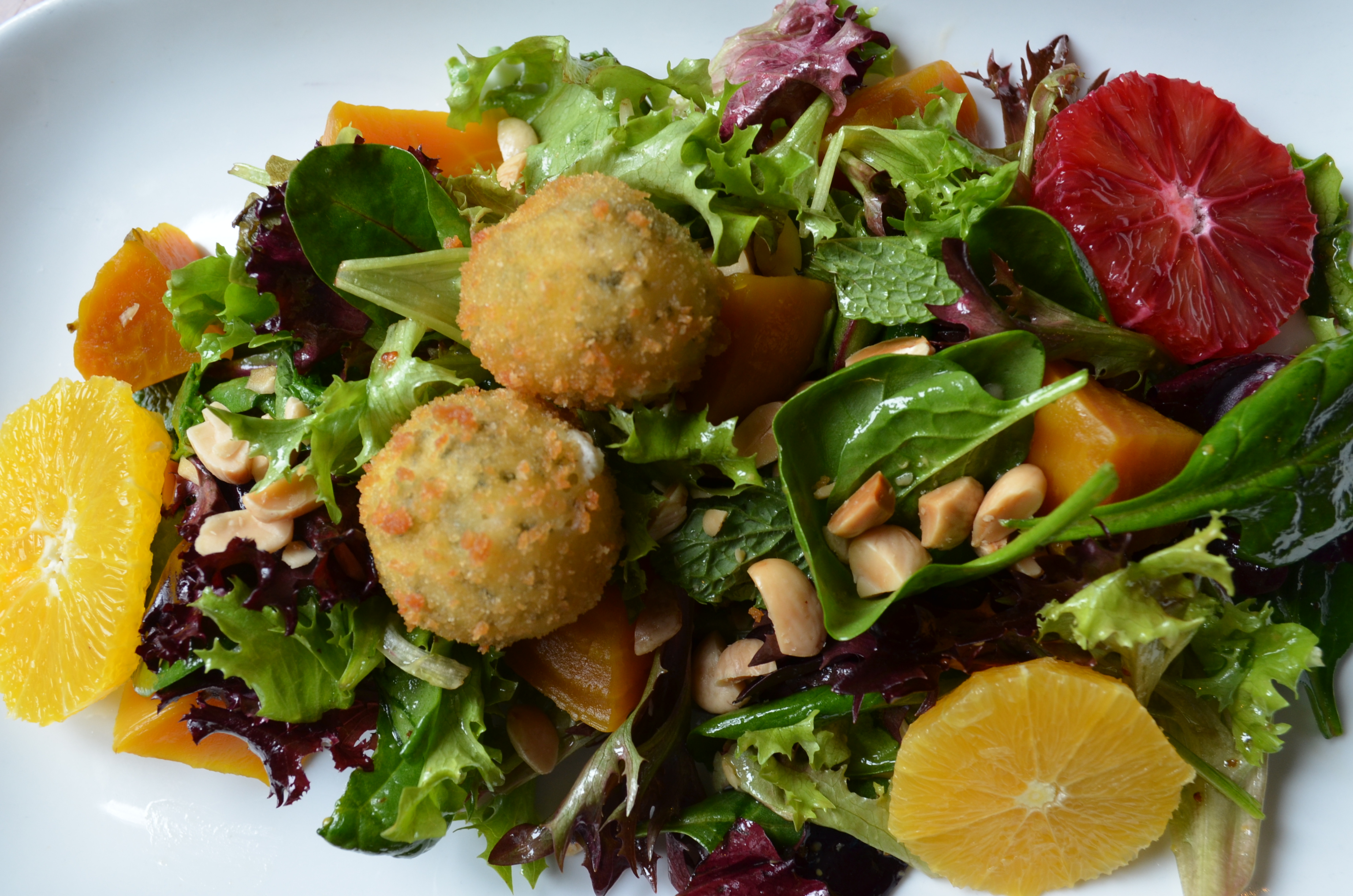 Great food makes a great trip, and Shaker Village is able to meet your group's dining needs in a variety of ways.
Our onsite restaurant, The Trustees' Table, is a seed-to-table dining experience in partnership with The Farm. From this historic restaurant, meal options for your visit include:
Private dining room reservations
Catered lunches - onsite
Basic box lunches
Market box lunches
Regardless of the dining option you select, you can be assured that the food will be fresh and delicious!
Our dining team is accustomed to meeting a variety of dietary requests. Please relay any special dietary needs to the Event Sales Team during the booking process.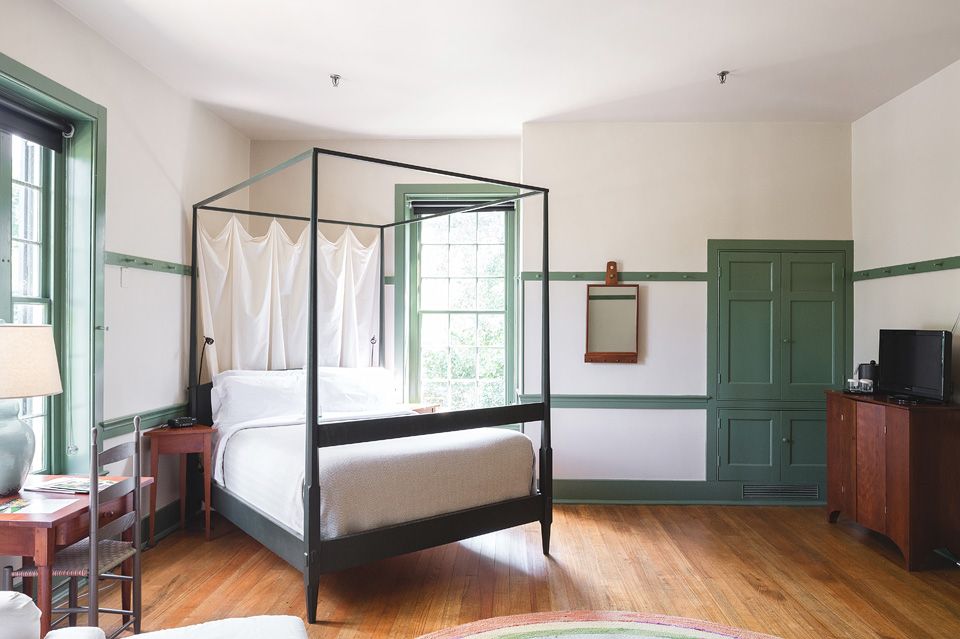 The Inn at Shaker Village features 72 guest rooms, suites and private cottages spread throughout 13 historic buildings.
The Inn is much more than a traditional hotel. Each room, and building, offers a distinct character and charm.
Rooms are comfortably appointed with Shaker-inspired and reproduction furniture, original hardwood floors and spectacular countryside views.
Groups may book overnight lodging through the Event Sales Team.
Call 859.734.5411 for more information.
Given the historic nature of Shaker Village, guest rooms are not accessible by elevator. Please consult the Event Sales Team during booking to ensure a quality experience for guests with limited mobility.
Discover the perfect gift!
Shop for signature Shaker oval boxes, logo merchandise and seasonally-inspired gifts, as well as unique children's gifts, books, soaps and lotions, jams and jellies, Shaker reproductions and more!
Visit our onsite Shops located in The Welcome Center, Post Office and Trustees' Office, each of which offers a unique selection of products and one-of-a-kind souvenirs.
Want to peruse our selection before your visit? Many items found in our onsite Shops are also available online! 
Planning to shop during your group's visit? Be sure to build time into your schedule when establishing your itinerary!