Discover a Learning Laboratory for Classrooms of All Ages
Bring your students to Shaker Village for learning adventures throughout 3,000 acres of discovery! Shaker Village offers a variety of engaging programs for K-12 students. Explore the Kentucky Shakers' history and way of life, discover crops on The Farm and wildlife in The Preserve, and participate in interactive sessions to build an exciting educational experience for your students. Each interdisciplinary program utilizes Shaker Village's unique setting to support Kentucky academic standards.
$8 per student/parent/chaperone
Teachers are free
Shaker Life:
Community + Culture at Pleasant Hill
Engage with the artifacts and buildings that the Shakers left behind to uncover the beliefs, practices and innovations necessary for their unique way of life. Learn what it would have been like to live a communal lifestyle. What was an average day like? How did the Shakers make a living? What did they eat? How was their community structured? Discover answers to these questions and more on this interactive school program.
Enriched Experiences (add-on options)
Bountiful Farming: From Eggs to Marigolds
Visit The Farm to discover the value of "waste not, want not."
Get your hands dirty, while exploring the cycles of a healthy food system through the life of an egg shell in the chicken coop, compost pile, greenhouse and garden.
Improve the land, and experience the day-to-day routines of a farmer.
$5 per student/parent/chaperone
Teachers are free
Swept Away: Shaker Innovations
Discover the legacy of Shaker innovation by learning about one of the society's most significant contributions—the flat broom.
Explore the social, agricultural and economic importance of the broom making industry to the community at Pleasant Hill by engaging with material ranging from raw broomcorn to finished brooms.
Throughout this experience, students will participate in a modified broom making process and create mini-brooms to take home.
$5 per student/parent/chaperone
Teachers are free
How did the Shakers make fabrics for blankets and clothing? How was this material different from what we use today? In this program, students will discover the transformative process by which wool can be turned into felt. Learn about the journey of wool from the field to refined fiber. Engage with reproduction objects that reveal the close connection between the society and the land. By the end of the program, students will have created their own unique felted soap to use at home.
Weather Plan: In case of poor weather another program may be substituted.
$5 per student/parent/chaperone
Teachers are free
Take a guided hike through an example of the rarest ecosystem in North America - a converted native prairie.
Use all of your senses to explore the diversity of plants and animals that call the prairie home, and discover how they fit together in an ecosystem through this experiential program.
Weather Plan: In case of poor weather another program may be substituted.
$5 per student/parent/chaperone
Teachers are free
Join us for a virtual program and engage your students in thoughtful discussion, while encouraging them to think critically about what it means to build and sustain a community.
Program topics and fees vary, and may be tailored to fit your classroom needs.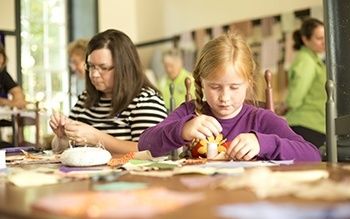 The second Tuesday of each month, Shaker Village offers home educators and their families reduced $6 admission. Explore 3,000 acres of discovery throughout The Historic Centre, The Farm and The Preserve! And, be sure to visit our new educational exhibits to uncover what life was like in this communal society.
Let Shaker Village inform and inspire your organization through lessons in community, sustainability and ingenuity. With expertise in Shaker history, environmental education, land management, organic agriculture, preservation and conservation, our instructors are available to speak to your classroom, student assembly, youth group, community center, library or church. Tailored programs can be developed to meet your specific needs.
Program fees apply.
Frequently Asked Questions
When can I bring my students to Shaker Village?
Field trips are available April-November, Tuesday-Friday from 9:30 a.m. – 12 p.m. Other accommodations can be made outside of this timeframe by contacting our team.
How much does it cost to bring students to Shaker Village?
Most school groups choose to do the basic tour ($8 per student/parent/chaperone) and one enriched activity ($5 per student/parent/chaperone) for a total cost of $13 per student/parent/chaperone. There is no charge for teachers. Activities such as dining will incur additional costs. Please note that the pricing included in this school planner applies to grades K-12 only.
What if my student group includes children ages 5 and under?
For preschool groups and other groups with children ages 5 and under, admission rates may apply for those participants, depending on your program selection. Please discuss your options with our Event Sales Team upon booking your visit.
Are the costs for a homeschool group the same as other student groups?
Pricing for students that attend with a homeschool group are identical to all other student field trips. Parent teachers are offered free admission up to a 1:10 parent to student ratio, with all adults beyond that ratio charged at the typical parent/chaperone rates.
When do I need to book my field trip and how do I pay?
We require booking (with confirmed participant numbers) at least two weeks in advance of your trip. Schools may pay the day-of the trip or be invoiced for their final booked numbers after their visit. Participants in addition to final booked numbers must be communicated to Shaker Village prior to your trip and may not be accommodated depending on group size. Approved additions will be added to the final invoice. Chaperones should make payment with your school, and Shaker Village will receive one payment after your field trip from your school.
Can our group eat at Shaker Village?
Schools may bring their own lunches or order box lunches from Shaker Village. Student groups are welcome to picnic in designated lawn areas; however, we are unable to guarantee a sheltered location in the case of inclement weather. Please plan to have students eat on their busses in the case of inclement weather. Your group may also enjoy the unique experience of dining at The Trustees' Table.
What should our group wear to Shaker Village?
Students and adults should anticipate lots of walking during their field trips. All participants should wear close-toed shoes and clothing appropriate for the anticipated weather on the day of their field trip.
What will a field trip at Shaker Village look like?
A typical field trip experience at Shaker Village will generally adhere to the following schedule, though additional programs and times may be available upon request:
9:30am-10:00am Standard Arrival Time
10:00am-11:00am Basic Tour
11:00am-12:00pm Enriched Experience
12:00pm-1:00pm Lunch
1:00pm-1:30pm Departure