Discover Seed-To-Table Freshness
Dine on traditional favorites and seasonal Kentucky dishes prepared with straight-from-the-garden ingredients. Steeped in tradition, The Trustees' Table's menus celebrate Shaker Village's roots by featuring dishes made of seasonal ingredients from our garden and local farmers. The menus offer dishes inspired by the seasons, changing based on the freshest locally available ingredients.
Breakfast: 7:30-10:00 a.m.  |  Lunch: 11:30 a.m.-3:00 p.m.  |  Dinner: 5-8:30 p.m.
Friday + Saturday, May – October
Every Friday and Saturday night, The Trustees' Table Lawn will feature live music around the fire pits with specialty cocktails, drinks and appetizers. Regular dinner and beverage menus available outside, along with marshmallow roast and kids' games. No admission required for Music on the Lawn activities.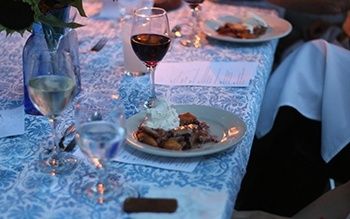 Gather around Shaker Village's roving table for a culinary adventure that sets the stage for creative collaborations, great conversations and new friendships. From celebrated guest chefs, talented mixologists and favorite local musicians, you never know who might drop in or where the evening might take you.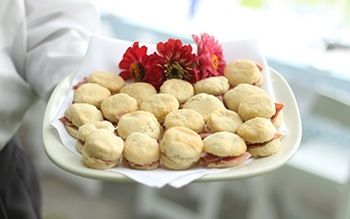 A perfectly-crafted dining experience is at the heart of the perfect gathering. Whether it's an elegant Derby party, corporate reception or classic Kentucky wedding, The Trustees' Table's experienced culinary team will prepare a menu that fits your venue and your vision. Contact us at [email protected] or 859.734.1558 for more information. View our Catering Menu here.