Discover the Perfect Day for the Perfect Love Story
Amidst the timeless architecture and an enduring spirit sits a refined and inspiring storybook Kentucky wedding destination. Tranquil yet powerful, Shaker Village provides the ideal setting for the simplest ceremony or the grandest reception.
Celebrate all weekend, with inspiring experiences as dramatic as you are. From a cozy evening marshmallow roast and hayride, to bourbon tastings, picnics and private tours, let Shaker Village tailor a weekend made just for you. Make your own history at Shaker Village.
Shaker Village's team of professional wedding specialists will help you plan and execute an unforgettable wedding day. View all the beautiful venues and decide which will best fit your vision, then plan a memorable reception tailored exclusively to your requirements. Whatever your heart's desire, the wedding team at Shaker Village is at your service.
For groups of 50 or less pricing starts at $300*. For groups of 100 or more pricing starts at $800*.
*All room rental fees are subject to 25% taxable service charge and 6% Kentucky sales tax.
From a rustic, restored tobacco barn to a remote dwelling with double parlor, covered porch and enclosed courtyard to the Shakers' 1820 Meeting House, Shaker Village's venues are unmatched. With 3,000 acres from which to choose, let Shaker Village be the backdrop for your special day.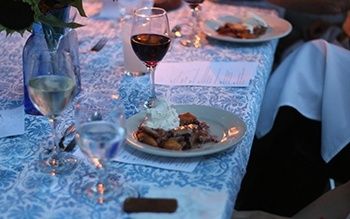 A perfectly-crafted dining experience is at the heart of the perfect wedding. Whether it's a formal sit-down dinner reception or a midday brunch on the lawn, The Trustees' Table's experienced culinary team will prepare a menu that fits your venue and your vision.
"We held our reception at Shaker Village and our guests lodged there for 3-5 days. Great service and excellent accommodations. Responsive service on the part of the kitchen manager, wedding planner and chef." -Devin M. via TheKnot.com
A Sampling of

Shaker Village Weddings
"I have been in love with Shaker Village since visiting with my grandparents as a small child. When I learned they did weddings, I had always dreamed of getting married there. Now that my dream has come true, I have to say that it was far and beyond a million times more amazing than I could have ever imagined. The location, the history, the food, the service and the planning were outstanding. They made sure that everything I had pictured in my mind was exactly what happened while exceeding my expectations. I cry of happiness every time I think about our special day. It was affordable and fun! I'm proud my wedding budget went towards an amazing organization that will keep the Shaker history alive in Kentucky. Thank you Shaker Village for making my wedding dreams come true!" -Emily via WeddingWire.com