Notice: Exhibits will be closed and no tours will be offered on Mondays in January. Please call (859) 734-5411 for any questions.
Discover Programs for Learners of All Ages
Historic Village Tours are available on-call at either the top or bottom of the hour, 10:00 a.m. to 4:00 p.m. every day in January and February. 
Program
Day
Time

Experience the Farm

Everyday

10:30 AM

Shaker Music

Everyday

11:00 AM

Buildings + Beliefs

Everyday

12:00 PM

African American Experiences at Pleasant Hill

Fri & Sat Only

1:00 PM

Innovation Station: Winter Tea Tasting

Everyday

1:30 PM

Shaker Music

Everyday

2:00 PM

Innovation Station: Swept Away

Everyday

2:30 PM

Innovation Station: Farm Friends

Everyday

3:30 PM

Innovation Station: Top to Bottom Tour of the Meeting House

Everyday

4:00 PM

Poultry Parade

Everyday

4:30 PM
---
Enjoy a variety of activities and programs throughout the Village that change seasonally. See new exhibits about some of the most colorful Shakers, listen to a solo performance of a signature Shaker hymn and learn new skills at heritage craft workshops in The Historic Centre. Learn about our vegetable and herb gardens and pet a member of our farm family in The Farm. Venture into The Preserve and hike to one of our water features. And more! Visit our Events Calendar to see what else is happening at Shaker Village.
To start your adventure, visit the Welcome Center when you get here to purchase admission tickets and pickup a map. 
Admission to Shaker Village grants you access to a full day of discovery! Every day is filled with self-guided and staff-led tours, talks, special demonstrations, exhibitions, hands-on activities and more throughout The Historic Centre, The Farm and The Preserve. Scheduled experiences change daily based on the seasons and village at work projects.
May – October
Wed., Thurs., Sun. | 2:00 & 4:00 p.m.
Fri. & Sat. | 2:00, 4:00 & 6:00 p.m.
$5 – $10 | Purchase at Welcome Center
Rides leave from nearby Shaker Landing.
Visit The River for additional information.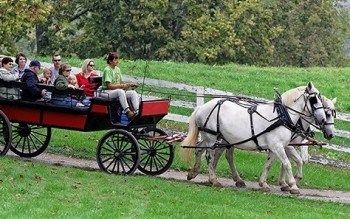 Friday - Sunday | May – October
$10 | Purchase at Welcome Center
Friday - Saturday| September - October
$5 | Purchase at Welcome Center
Named as a top hidden travel destination by BBC News! Rates from $110 per night. Choose from 72 guest rooms, suites and private cottages throughout 13 historic buildings. Inn guests receive complimentary admission.
Reservations 800.734.5611
Dine on traditional favorites and seasonal Kentucky dishes prepared with straight-from-the-garden ingredients. Reservations are suggested for all meals.
Breakfast 7:30AM to 10AM
Lunch 11:30AM to 3PM
Dinner 5PM to 8:30PM
Reservations 800.734.5611
Discover the perfect gift! Shop signature Shaker oval boxes, logo merchandise and seasonally-inspired gifts. Visit our onsite shops or shop online!