Discover Backyard Sustainability
Farming was at the heart of the Pleasant Hill Shaker community, and experimentation and resiliency made their farm a model of innovation and efficiency. Shaker Village continues this tradition by employing sustainable agricultural practices while tending our garden, orchard, livestock and apiary. In addition to providing fresh produce for The Trustees' Table, The Farm shares lessons in sustainability with guests of all ages.
Visit The Farm and discover organic gardening tips, four-legged friends and barnyard adventures for the entire family. But don't stop there—continue your exploration in The Historic Centre and The Preserve!
Admission grants you access to a full day of discovery filled with guided tours, self-guided exploration and knowledgeable interpreters around each corner.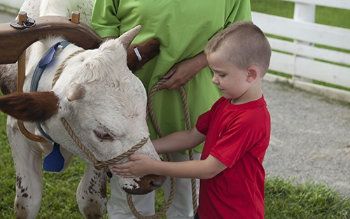 Discover curated weekend programs designed to inspire new perspectives! Become a Shaker maker, go behind-the-scenes with the collection, explore Shaker architecture and more. Visit the event calendar and register to start your discovery.
Fridays and Saturdays bring evening adventures, extended hours and reduced pricing! From busting history's myths, to hearing surprising stories and exploring rarely-seen spaces, stay late for fun night programs. Visit the event calendar for details.
Jump on board the horse drawn wagon for a ride around The Historic Centre every Friday-Saturday in the months of May-October. Purchase your $10 ticket at the Welcome Center.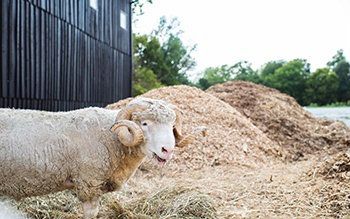 Meet our spirited horses, working steers, chickens and many others that call the farm home. Springtime brings new additions to the farm family, just in time for Breakfast with the Babies!
Walk the Vegetable Garden
Walk the garden and talk with the farmers to pick up tips on how to grow your own produce, take advantage of companion planting and care for small livestock in your own backyard.
Admission grants you full access to self-guided and staff-led tours, demonstrations, hands-on activities, and more throughout The Historic Centre, The Farm and The Preserve!
Discover Fresh Food—From Seed to Table
In the Shaker tradition, our farmers take pride in planting, tending and harvesting organically-grown fruits, vegetables and herbs, destined to end up on your plate in The Trustees' Table. The garden is planted with spring, summer and fall crops, including assorted varieties of lettuces, kale, peas, tomatoes, beans, potatoes, okras, peppers, squashes and many more. The staff practices companion planting and crop rotation techniques to enrich soil nutrients and reduce pest problems.